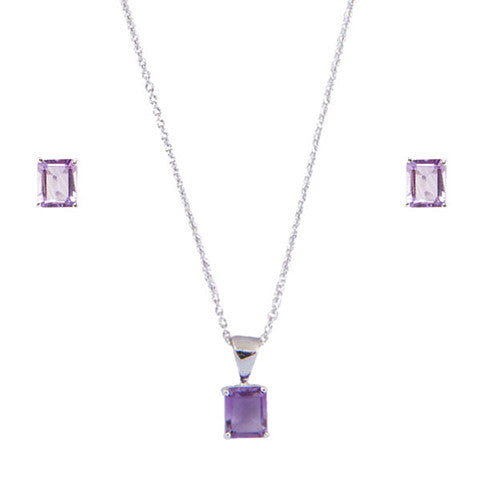 Rectangle Shaped Purple Genuine Amethyst Necklace & Earrings Set
Rectangle Shaped Purple Genuine Amethyst Necklace & Earrings Set
$190.00
8DA137AM
925 Sterling Silver Purple Genuine Amethyst Necklace Earring Set by 891 Jewelry & Accessories features a pair of rectangle shaped earrings with a matching necklace. Exude simplicity with elegance when you pair this necklace and earrings set with your evening look.
Jewelry set comes with polishing cloth and jewelry box.
* Item is non-refundable and non-returnable.
Pendant length x Height
- 0.25" x 0.5"

Necklace drop measures 8.6"
- Sterling silver
- Link chain with non-adjustable length
- Lobster claw clasp fastening

Earrings length x Height
- 0.3" x 0.35"
- Silver with rhodium finish
- Bullet back fastening